Mission
to provide volunteer mentoring and scholarship funding to local financially-qualified students in support of their college education.
Impact:
We have given a total of 124 scholarship awards,
distributing over $715,000 in funding to students.
Future Sacramento scholarship awardees have additionally accessed approximately
$2,900,000 in financial aid grants and other scholarships.
This additional funding  reflects the excellence of our scholarship awardees who earn merit scholarships recognizing their accomplishments and their personal responsibility to seek and retain grant funding.
Future Foundation of Sacramento program demographic diversity :
Latino 41% , Black 25% , White 18% , Asian 16%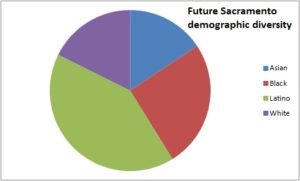 The Future Foundation of Sacramento, Inc. (Future Sacramento) is a 501(c)3 non-profit corporation.
With only one staff person, Future Sacramento operates thanks to a volunteer Board of Directors, additional volunteers and program supporters.
Donations stay local – only Sacramento area recipients are eligible.
Future Sacramento is more than a scholarship program.
mentoring begins the summer after students' 10th grade year
help students apply to and enroll in the university of their choice.
advocate for students to receive all financial aid for which they are eligible, before providing scholarship funding for remaining need.
renewable scholarships for up to five years in college.
students learn money management and the importance of responsible financial stewardship.