The Alchemist Book Club Week 1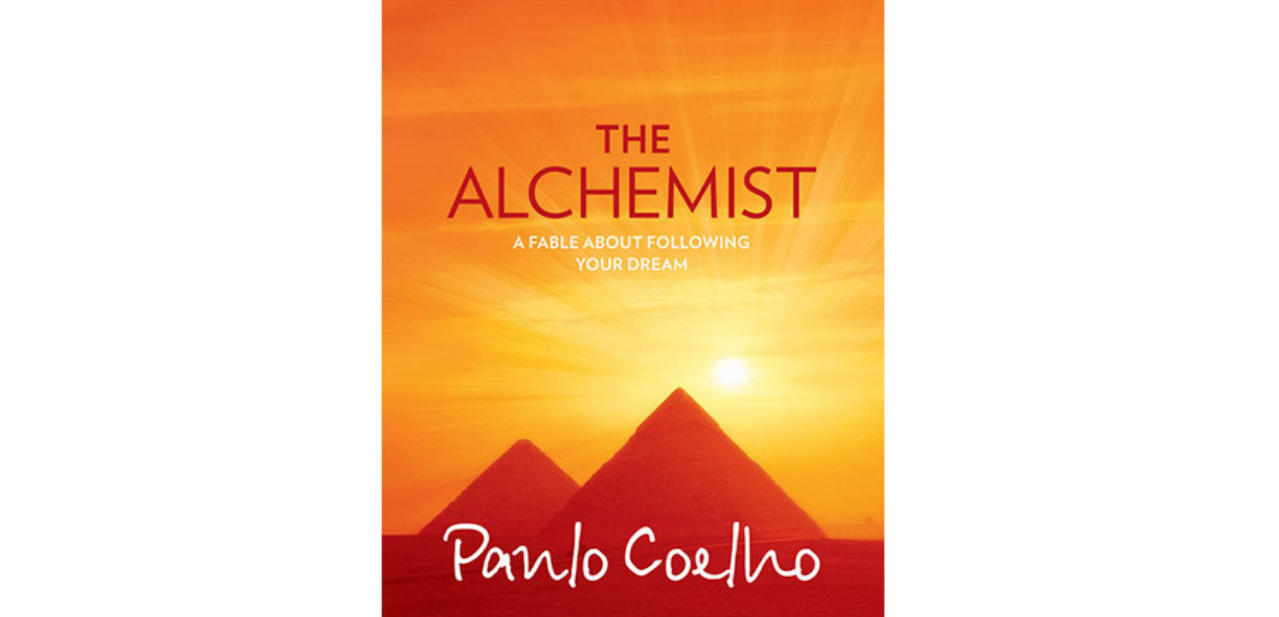 Book Club Discussion #1 (images from the Graphic Novel)
Post meeting notes:
Theme of Choice or Lack of Choice was discovered. The Sheep and the King Mechizedek do NOT have the will of choice. Santiago is the player with choice which he grows into agency.
Theme of religion as personal story – Priest seminary (Catholic), Gypsy, King Mechizedek (god), and Muslim all present in this Part One.
Sheep Significance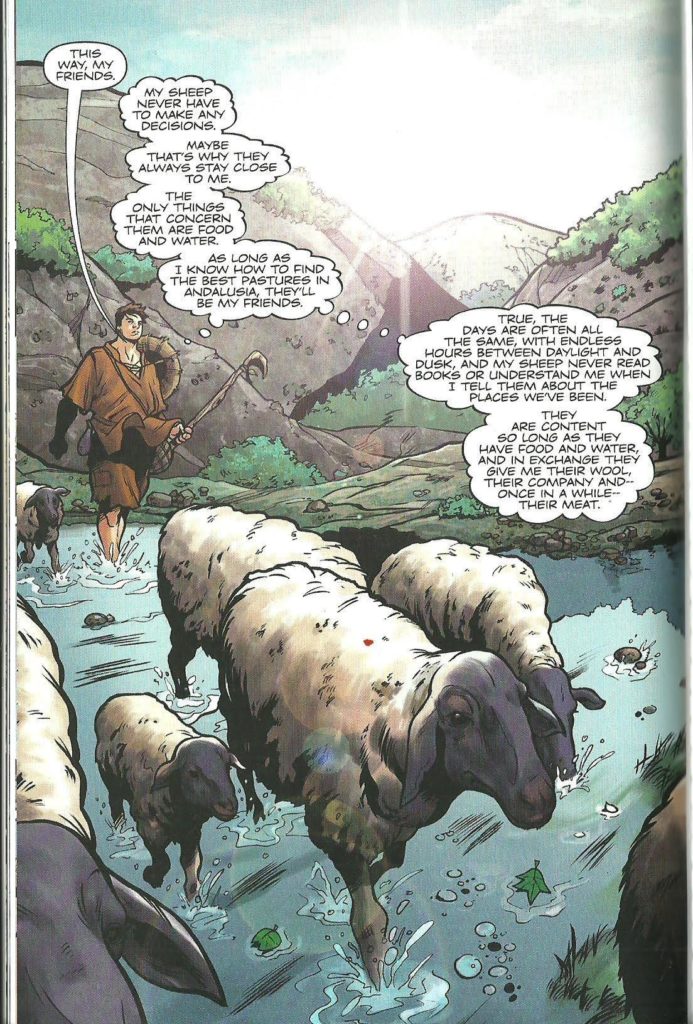 He realized that it could be… that it was he who had become accustomed to their schedule. (pg 6)…Shepherd urged his sheep… They never have to make any decision, he thought. Maybe that's why they always stay close to me. They trust me, and they've forgotten how to rely on their own instincts, because I lead them to nourishment.
(pg 9)
Sheep illustrate a mundane life of someone who has ignored their Personal Legend.
Sheep only think about is food and water, but  there is so much more to life
The sheep "don't even realize that they're walking a new road every day," people can get caught up in the day-to-day and miss the extraordinary
Sheep = lack of choice, comfort, purpose, holding the boy back from further travel
Shepherd vs Priest : What is the significance of Santiago becoming a shepherd rather than a priest, as his parents had hoped? Why did he make the choice to be a shepherd? What does being a shepherd allow him?
How is the story helped by Santiago being a shepherd? What does the use of a shepherd allow the author to portray?
Personal Legend – by King Mechizedek:
"world's greatest lie… at a certain point in our lives, we lose control of what's happening to us, and our lives become controlled by fate." instead of having the ability to choose your own Personal Legend. (pg 20)
Personal Legend – "It's what you have always wanted to accomplish" when we are young, we all know what it is, "but as time passes, a mysterious force begins to convince them that it will be impossible for them to realize their Personal Legend… when you really want something, it's because that desire orginated in the soul of the universe. It's your mission on earth…when you want something, all the universe conspires in helping you achieve it." (pg 23-24)
What do you think, Is your Personal Legend:
Revealed to you through omens, mentors or signs?
Your choice to set a goal and go for it?
Singular purpose of your life – your mission on earth?
The means by which you regard life as fulfilling?
Set for you through fate or destiny? Predestination, in Christian theology, is the doctrine that all events have been willed by God, usually with reference to the eventual fate of the individual soul.
OR??………..
Principle Of "Favorability" Beginner's Luck, King Mechizedek said: "It's called the principle of favorability. When you play cards for the first time, you almost sure to win. Beginner's luck…Because there is a force that wants you to realize your Personal Legend; it whets your appetite with a taste of success." (pg 31)
Why Beginner's Mind Matters
Better experiences : Not clouded by prejudgments, preconceptions, fantasies about what it should be or assumptions about how you already know it will be. Removes disappointed or frustrated feelings.
Better relationships : Remove being frustrated that others are not meeting your ideal – them with fresh eyes and notice that they're just trying to be happy, that they have good intentions (even if they're not your intentions), and they are struggling just like you are. This transforms your relationship with the person.
Less procrastination : Look at your project or task with beginner's mind and instead of worrying about how hard the task will be or how you might fail at it … you can be curious about what the task will be like. You can notice the details of doing the task, instead of trying to get away from them.
Accept Uncertainty : Instead of worrying about what might happen, you can open yourself up to being curious about what will happen, embrace not knowing,
embrace being present and finding gratitude in the moment
adapted from zenhabits.net/beginner/
Beginner's Mind : Refers to having an attitude of openness, eagerness, and lack of preconceptions when studying a subject just as a beginner would. (wikipedia) Look at everything as if it's brand new, perhaps with curiosity and wonder
Beginner's Luck – Question
Do college freshman experience beginners luck?How can college freshman take advantage of this?
King Mechizedek's gift to Santiago  
Stones : black and white, representing "yes" and "no" answers to objective questions for help interpreting the omens in order to know where to go or when to go.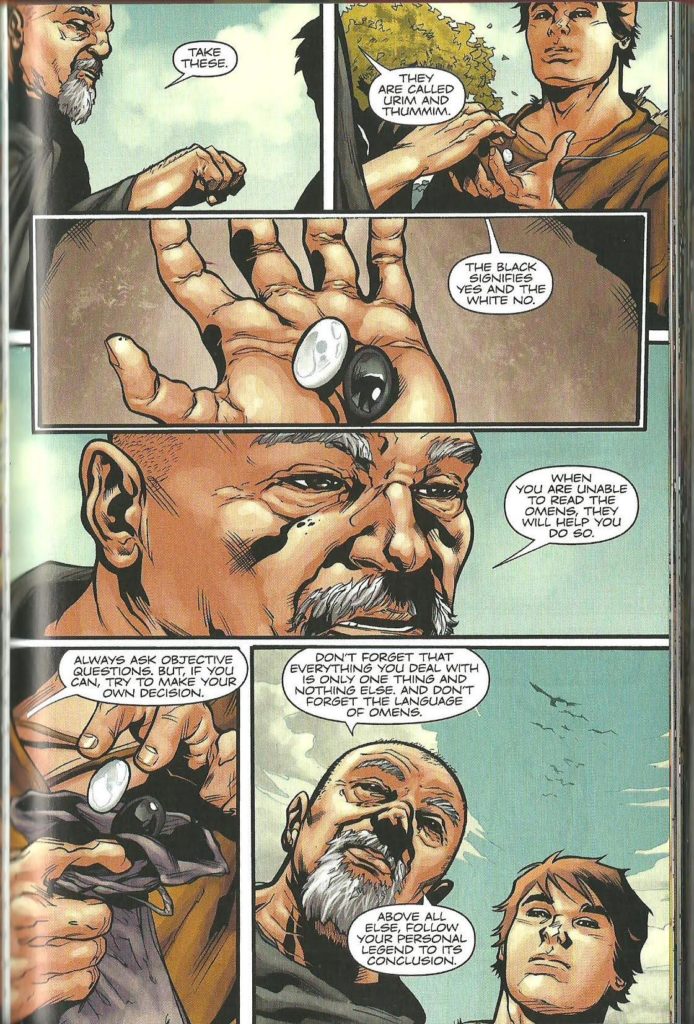 Before giving Santiago the stones, the king tells Santiago that in order to find the treasure, Santiago must follow the omens. "In order to find the treasure, you will have to follow the omens. God has prepared a path for everyone to follow. You just have to read the omens that he left for you… "They are called Urim and Thummim. The black signifies 'yes,' and the white 'no.' When you are unable to read the omens, they will help you to do so. Always ask an objective question."
The boy experiences setbacks on his journey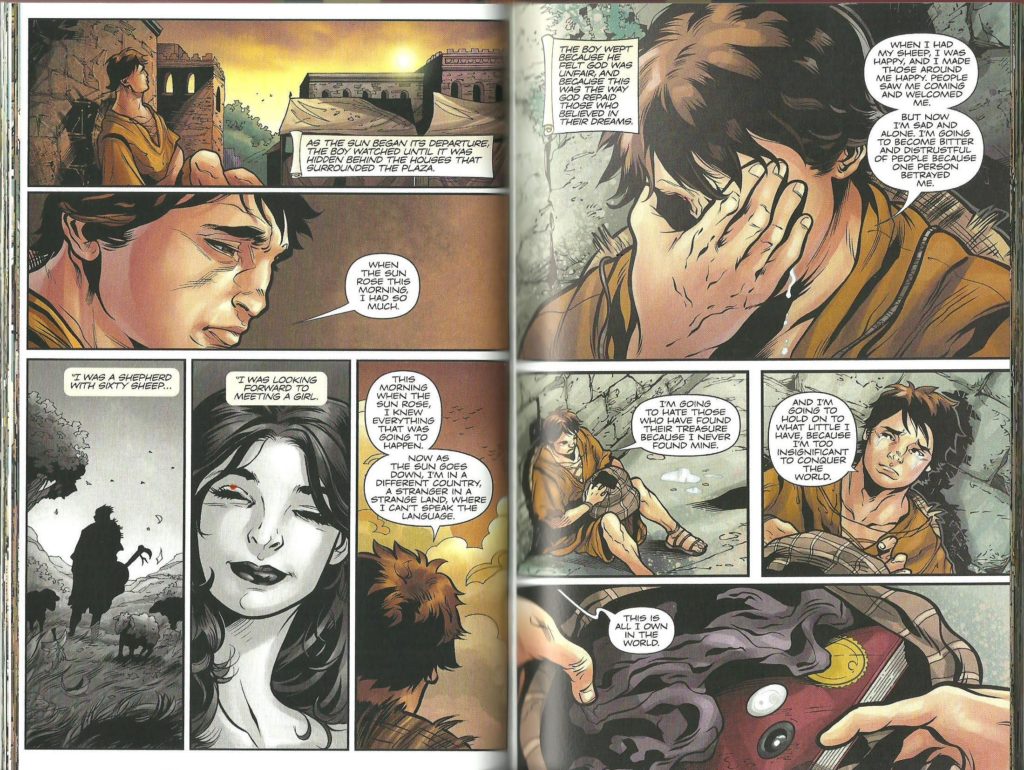 ¨Why is it important that he faces and overcomes these challenges?
¨ How would the novel be different if his quest was easier?
Job at the crystal shop
How was your impression of our protagonist (Santiago) affected when he asked for the job in the crystal shop, and then agreed to remain and work for the shop instead of continue his journey the same day?
What do you think the boy may learn from working in the crystal shop?
Powerful Quotes
¨It's the possibility of having a dream come true that makes life interesting. (pg 13)
¨Everything you deal with is only one thing and nothing else. (pg 33)
¨When you want something, all the universe conspires in helping you to achieve it. (pg 24)
Takeaway Suggestion – What is your Personal Legend?
Choose a dream or big goal you want to achieve in your life as your Personal Legend
Handwrite a letter to yourself about this moment on your journey to your Personal Legend
Create a picture, collage, or vision board
Write a journal entry
Draft an essay