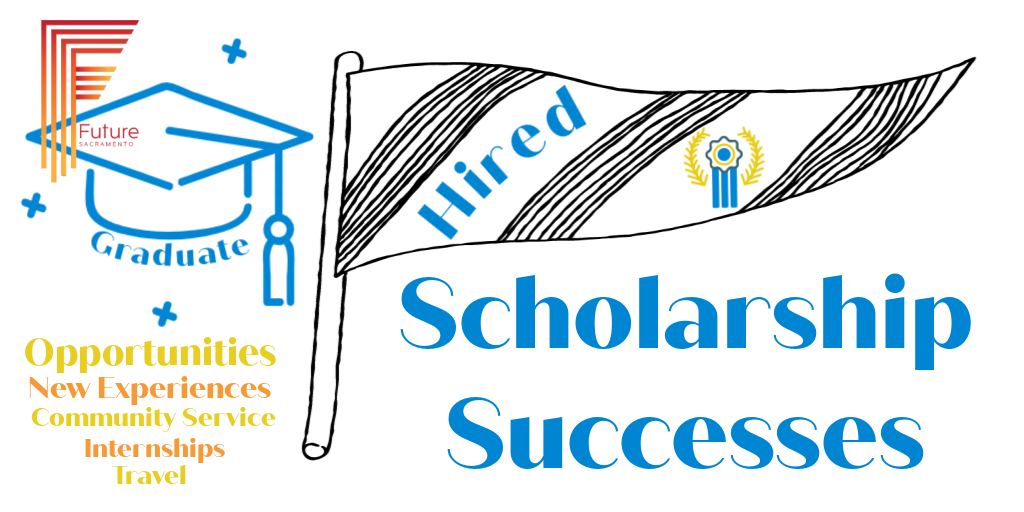 From Engineering to Arts, Business to Giving-Back; our graduates are doing amazing things thanks to donor supported college educations. Here is a look at the post-college accomplishments of several recent graduates.
Manh
He is applying his Bachelor of Science degree in Mechanical Engineering from Sac State to a new job at Myers & Sons Construction as a Project Engineer with Waterworks.
Sophia
After graduating from the Tisch School of Arts at NYU, Sophia is continuing to work in her field. She is currently an office manager and assistant for The Production Hive, where she is responsible for the New York City office. She supports television and documentary production as well as coordination for shoots in the city and other important production logistics.
Luciano

He graduated from UC Berkeley with B.A. Public Health and now works remotely for ScholarMatch (a college access organization) as a program coordinator. He is helping students just like himself improve their situation though higher education. Just after graduating, Luciano worked at The Greenlining Institute as a Summer Associate in Oakland, California. He was one of a cohort of nine from across the US.
Sindia
She graduated from Cal Poly San Luis Obispo with a Bachelor of Science in Civil Engineering plus a minor in Construction Management. Sindia created an extensive student resume while in college, including student leadership, community service – both locally and abroad, and work experience with paid internships. Her dedication to developing her education and skills opened the door to full time employment. Kimley Horn, a civil engineering consulting firm in Sacramento, hired Sindia to join their aviation design team.
Gianna
She is employing her double degrees to an already diverse career. She has been working for Deloitte in their consulting practice; but recently accepted an offer to return to VSP as a Business Analyst. Gianna first worked at VSP as a college student through an intern-partnership with Future Sacramento and VSP. She is also aiming to start her own business as a real estate agent.

"I'm excited to apply the cumulative knowledge I gained from my business degree, technology background, and sales/consulting experience to my passion for real estate."


Gianna
Roma
She is a UC Davis graduate now working as a Civil Engineer at an architect/engineering consulting firm in San Francisco.
Eden
He attended University of Chicago. He originally entered college as a Pre-Medical student, then graduated as a double major in English and Medieval Studies with a focus on Old English poetry and literature. He graduated with Special Honors in English and has obtained impressive work experience. Right out of college, Eden spent some time abroad on an archaeological dig. Next he was employed with a marketing firm. Then he moved on to become a legal writing specialist with an immigration law group where his role was writing the recommendations for visa applicants being brought in by universities and large companies. Currently he still lives in Chicago and is a medical editor working for the American Osteopathic Organization, where he works closely with every medical board to ensure the high quality of their examinations. He also helps lead board meetings and train doctors on writing exam questions.
Shaniqua
She graduated from CSULA Spring of 2017, earning her degree in Sociology with a minor in Pan-African Studies. Next, she was accepted into graduate school at USC School of Social Work. Shaniqua is continuing her graduate work and now is interning at The Vera Institute of Justice. Her work is with two teams, The Center on Sentencing and Corrections and The Center on Immigration and Justice; both focus on policy advocacy and policy change.
I'yuana
She is a Recruiting Coordinator at Google, where she supports various aspects of the recruiting process including all interview logistics, candidate experience, scheduling, hiring operations, and coordinate special events.
Diem
She first graduated from UC Davis a baccalaureate degree  in Environmental Toxicology with an emphasis on Pharmacology and a Psychology minor. Then she finished her master's degree in medical health sciences, emphasis in pharmacy studies, with lab research at the Buck Institute. Now, Diem is continuing her graduate work in pharmacy school at Touro University California in Vallejo. She works part time as a tutor and just started a job at a retail pharmacy, and even with distance learning she has been able to keep up with practice clinical skills.
"Given many opportunities to speak at different events through Future Sacramento, I have grown more confident in speaking. In preparation of my graduate school interview, I recalled the different Future Sacramento interviews that I sat in – the school faculties asked me very similar questions. Lastly, the knowledge that I gain from loan seminars are now applicable."

Diem