Tyler Naso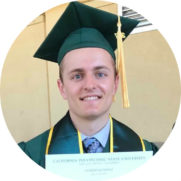 Tyler Naso is our 10th college graduate!

On June 18th Tyler Naso walked in his commencement ceremony. Tyler is the first college graduate from the class of students we accepted in 2010. He began college during the academic year of 2013-2014 and graduated from Cal Poly San Luis Obispo in four years - one year ahead of our five year college scholarship program and the national average for degree completion.

Tyler began at Cal Poly San Luis Obispo as a student of Construction Management, after careful consideration he changed his major to Recreation, Parks, And Tourism Administration with a concentration in Sport Management. Showing his determination for his new major, he successfully completed perquisite courses as application for the major before being admitted into the program. Tyler also secured an internship position with sports radio host CJ Silas on ESPN Radio in San Luis Obispo. Throughout the summer, he completed a final project for his graduation requirement, a 10-week internship/full-time job where he worked as a full-time Account Executive for the Sacramento Kings for their development league team, the Reno Bighorns. After he completed his final project, he returned to Sacramento to pursue his postgraduate career.

As a scholarship recipient, Tyler reached both goals of earning his degree and building work experience.