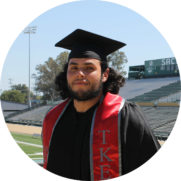 College Graduate - 2015
Stephen graduated Spring 2015 with a baccalaureate degree in English as Literature from California State University, Sacramento.
"I have been with Future Sacramento since its first year in 2007. Without the support of Future Sacramento I would not have been able to attend college.  Along with the guidance of my paired mentor, I have found a new path towards success through a collegiate education."
Through the financial, educational, and emotional support given to me by Future Sacramento, I am proud to say that I am a college graduate.
"Regardless of which field I decide to pursue for a career, two things are certain.  The first being that I plan to make an impact within my field of choice, and the second being that I will continue to remain with Future Sacramento, through donations and fundraisers. In addition, I hope to guide one or more young students towards a similar path of success that I have taken."
"Future Sacramento has provided me with the support necessary towards having a successful vision in life, and I am grateful for everything they have done.  The rest is in my hands, and I plan to continue to achieve at the level Future Sacramento has prepared me for."
Stephen's shared experience of being a first-generation college student after his first year away at college:
After this first year in college, Stephen shared: "It seems like it was just yesterday when I showed up into that scary board room at CSU Sacramento with a non-matching suit for my interview for the program, and I find it remarkable that the guidance that Future Sacramento has given me has landed me where I am at today... Freshman year was an amazing experience, with trials, and accomplishments, all around. I can look back and say that everything I have been through has been beneficial, from being totally confused having to buy my own groceries for the first time, to earning an A in my first college level English class... Without Future Sacramento, there is no way that I could be on my way to a successful beginning in life. I have been able to not only escape some of the factors that would have held me back at home, but set my own standard of living, goal of where I want to be, shaped by the advice and examples of Future Sacramento."