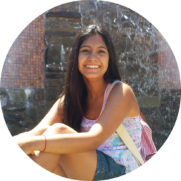 Sindia Maya is an exemplary student who demonstrates a strong desire to achieve her fullest potential. As a first-generation college student who graduated from a high school with less resources - she had to overcome a great divide of foundational knowledge to catch up to her engineering college classmates. Even with setbacks - Sindia was accepted into Cal Poly San Luis Obispo to study Engineering and her dedication has not faltered.
Sindia's background:
Throughout high school Sindia, enthusiastically prepared for college by remaining very active and challenging herself with rigorous coursework. Sindia served as the flutist band leader, was a member both the swim and tennis teams, and volunteered as tutor with younger children. Sindia grew up in a low-income, immigrant household. Her family is close and supportive, but she experienced substantial challenges of instability and loss. In sixth grade, while eating a meal with her family - her home was destroyed in a gas explosion. The result was the loss of both their home and financial stability. During high school, threat of deportation loomed over her brother and she also suffered the loss of her grandfather after their first and only in person meeting. These obstacles demonstrate Sindia's remarkable perseverance to succeed.
Sindia shared - "I always worked hard in high school because I wanted to be the best person I could be, and I knew I was fighting for an opportunity my parents and two brothers never had...When I entered this program, I got a mentor and for the first time in my life, I had someone other than my family who actually believed in me and what I could do."
Sindia's college experience:
When Sindia was a first year college student, she shared - "This scholarship turns the dream of going to college for first-generation students into a reality. I would not be here at California Polytechnic University San Luis Obispo, one of the greatest engineering schools across the nation, if it were not for Future Foundation of Sacramento."
Sindia has stayed active during college. Her resume of work experience is extensive - including student leadership, community service - locally and abroad, and paid internships with Solar Roof Dynamics in Davis and Webcor Builders in San Fransisco.
Eager to start, in her first year Sindia became the Event Coordinator Assistant for the campus club, Society of Civil Engineers. She additionally became an active member with the Society of Women Engineers and community service fraternity - Alpha Phi Omega. During the summer after her 2nd year, Sindia participated in Cal Poly's Alternative Breaks Service Program by traveling to Cuba to help an underdeveloped community. Her work included restoring homes, building a neighborhood park, and cleaning up the Santa Maria Beach. Sindia completed over 100 hours of community service throughout the SLO community during her third year in college. In her 4th year, she became VP of Service for Alpha Phi Omega to assume the role of outreach into the community to organize annual service events for the 100 student chapter.
Sindia is on track to graduate with a degree in four years, but has decided to expand her studies to pursue a double concentration in both construction and transportation, as well as finish a minor in Construction Management. She will remain at Cal Poly SLO for a 5th year and hopes to secure another internship that will assist her in selecting a career field. She hopes to work in construction and possibly later in transportation engineering; or she may combine both to work in infrastructure rehabilitation.