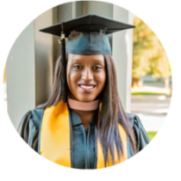 College Graduate
Shaniqa graduated from CSULA Spring of 2017, earning her degree in Sociology with a minor in Pan-African Studies.
When Shaniqua moved into her dorm as a freshman at Cal State Los Angeles, she beat the odds for college access. The oldest of five children from a low-income family, she questioned how she would pay for college. She was committed to becoming the first person in her family to graduate college, but she had to overcome several challenges. As a scholarship candidate, she could rely on the Future Sacramento for support. Her mentor sat with her as she filled out her student aid application, made sense of financial aid grants, wrote a letter of recommendation, and prepared a dorm packing list.
Before starting classes, foundation staff ensured she had a computer, course textbooks, and that her scholarship and financial aid were funded. Her enrollment was just the beginning. By realizing the promise of accessing college, she learned that with the support of the Future Sacramento she could reach her goal of a college degree.
Many students face similar situations as Shaniqua, but unlike her – too often first-generation low-income students have more questions than support on the path to college.