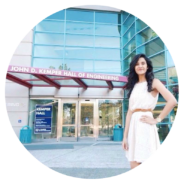 Scholarship Recipient
Roma graduated from UC Davis at the end of Fall 2017 term, earning her degree in Civil Engineering. During her time in college, she built work experience in her field through internship and student positions with Synectics, Molecular Matrix Inc., and currently Caltrans.
"More than removing the burden of not being able to afford college, it's that I get to be a part of something bigger than me," says Roma Saeed, high school senior. "Future Sacramento allowed my education and future to be unlimited and for that I am forever grateful."
This is her student story...
From the moment I stepped off the airplane and arrived in America, 13 years ago, my life has been in a constant struggle between varying cultures. My family had not just seen, first hand, but personally experienced low poverty. Coming from a country where education held little value was the type of narrow minded mentality that I had to haul myself away from if I wanted to make my aspirations unlimited.  My perception was always different than that of others because I was a foreigner to the country. Coming from an obscure country like Pakistan, being in America suddenly made me feel very small. But I knew that I had to make this journey worth it; my experience here had to be worth the expense of leaving my family behind. Caught in the middle of two varying cultures, to varying mindsets, I am awarded with the best of both worlds.
Luckily for me, I can pinpoint the exact moment that my future was written.
On Thursday, June 3, 2010, I was congratulated for being selected by Future Sacramento for their elite Scholarship Program. Being that I was from a limited background, this newfound opportunity was one that was beyond anything I could ever imagine. Coming from a financially unstable background to having my education paid for, is a monumental alteration in my life that I never envisioned possible. Having Grant Napear, the broadcaster for Sacramento Kings, acknowledge during my scholarship interview, "You speak better English than I do, and I speak for a living" is the sum of my complete and utter gratification.