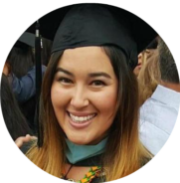 With support from Future Sacramento, Monica reached her ultimate goal of receiving both of her Baccalaureate and Master degrees only six years after graduating high school.
This is her student story...
I grew up in a household where the highest level of education was below high school. The only opportunities were minimum wage jobs, most physically demanding. My father drove trucks, my mother worked in fast food. When Future Sacramento called to tell me I was awarded the scholarship, my life changed. I knew my parents' sacrifices were not in vain. This scholarship made new opportunities possible and allowed me to become a better person in my community. It motivated me to push myself in my studies and become more involved on campus. I knew the challenge of college was necessary to become successful and create an image of future goals for my siblings. Right out of college, I was hired in my field to become an Early Interventionist working with children with disabilities from 0-3 years of age in low-income homes. Many of the young mothers that I work with are hesitant to go to college. I share about the different opportunities and resources for them and their children to pursue education. I am extremely grateful for this amazing opportunity with Future Sacramento and all of the many people that invested in our education, especially my mentor Elizabeth Marlow. She was there for me time after time. I couldn't have done it without her. The support provided to students like me by Future Sacramento allows families to realize the dream of seeing their child become the first in their family to graduate from college.