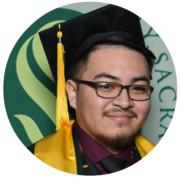 Jose graduated Fall 2016 from CSU Sacramento with his degree in Criminal Justice.
A college degree to me means so much more than another step to a career. Coming from such humble beginnings college was always a goal, but one that always seemed just out of reach. I grew to accept that completing college was possible but not expected from someone like me. After all I am an individual from a minority group and come from an underprivileged home; however, I could not find it acceptable to settle and squander the opportunities that I knew were there to be taken. My family shared this view and was as supportive as they could be always pushing me to do my best and it was with this that I knew the opportunities would follow.
It was with dedication and the confidence instilled upon me by a wonderful teacher during my freshman year of high school that I applied to this outstanding program with the hope that I could impress enough to be chosen as a recipient of this scholarship. To my shock I was admitted and entered this program that would grow to become a family.
I am happy to know I fulfilled the goal of both myself and the program; I earned a college degree and it feels awesome to say that.
Of course completing my degree was not without its difficulties. I faced many of the same issues that all contemporary students suffer: impacted majors, full classes, balancing class schedules with work, completing assignments, parking… Even so I knew I had such a strong support network behind me that I could not possibly fail whatever the case may have been.
I faced personal adversity that I am proud to say I have overcome, and even though it was stressful at times I knew I had nothing less than their full support. If anything these pressures served as motivators to try even harder and as the end was almost in sight I grew proud to know the hard work, late nights, early mornings, and long days were soon to be transformed into a magnificent reward.
As I stood in line to be called up at graduation I could not help but feel, excited, fulfilled, relived, and a bit tired (as to be expected of an early morning graduation). When I accepted my reward and headed back to my seat I could only liken the feeling to a dream, to finally be done and to have done it with the help of my family, friends, peers, and of course this organization.
Finishing my undergraduate studies was just the beginning as you may know I plan on going to law school within the coming years.
I would again like to offer my deepest appreciation towards this program that has allowed me to grow and to succeed. It was only with the hard work on both ends that I am standing here before you as a college graduate. Your faith was not misplaced and I truly cannot express the gratitude that I feel in words, even so I would like to say thank you for this opportunity and I hope that the foundation's  reach continues to grow because for every story like mine there are countless others who could, - no, should be heard. It would be an honor to continue to succeed in the name of this organization and as an individual; I am forever grateful and would love nothing more than to be successful in life and give back to a community and organization that has given so much to me.
2010 - Jose's high school accomplishments
Jose Cardenas is very strong in academics, holding a 4.0 GPA at Hiram Johnson High School. He hopes to attend UC Davis or CSU Sacramento, starting the in fall of 2012. Originally, he planned to study business and or law, with expectations of graduate school for either. More recently, he added an additional aspiration to possibly also pursue graphic design or visual communications. Jose is a polite and well spoken young man who seeks out school leadership opportunities. At his previous high school, Genesis Charter (which is now closed) he was in Junior ROTC, at this new campus - he found a similar route of helping younger students through California Cadet Corps. He shared the following, detailing his involvement and accomplishments:
"We taught the six Cadet Corps objectives which are leadership, citizenship, patriotism, academic excellence, military knowledge, and health fitness and wellness. The Cadet Corps has a system where higher-ranking high school cadets serve on a staff that runs the unit, handles all logistics, and organizes the daily schedule. I was the unit's personnel and administration officer. We as a unit participated in the Veterans' Day parade, Color Guards, and us high school cadets went through Teen CERT and Hunters Safety. We would go on camping trips and teach the middle school students basic first aid and basic survival training. We would also did school and community service. We went to brigade and state level leadership schools and competitions."