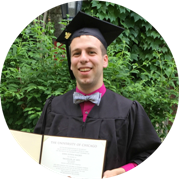 Eden graduated from University of Chicago with his baccalaureate degree, Spring 2016.  
Eden originally entered college as a  Pre-Medical student, then graduated as a double major in English and Medieval Studies with a focus on Old English poetry and literature. Eden earned "Special Honors in English" with this degree. He eventually hopes to continue on this track and work towards a Ph.D. in the field.
Right out of college, Eden spent some time abroad on an archaeological dig. Next he was employed with a marketing firm and then moved on to become a legal writing specialist with an immigration law group. His role is writing the recommendations for visa applicants being brought in by universities and large companies.
In his 3rd year - Eden shared these thoughts:
When you enter college there's a certain overwhelming quality to the whole thing.  In high school you get to choose electives and therefore have some sense that your education is in your hands.  In college, you realize that this is not true in the least.  It's no longer choosing electives, every class is completely up to you.  So when I was accepted into the University of Chicago I did what I had always told everybody that I would do - I became a premed.  I am extremely appreciative of the science background that I now have.  As a current English major I definitely have a much more in-depth understanding of chemistry and biology than most of my classmates.  However, I would not consider myself passionate in these areas.  Instead, I was took a class in Old English.  Knowing three other languages already, this was and is one of the most difficult that I have ever dealt with, and yet it only adds more depth and beauty to the poetry that takes this language on.  Furthermore, the culture that created these works fascinates me.  It is something that no longer exists anywhere in the world, a fascinating system of society. For my future plans, after college I would definitely like to take some time off of school after college.  I have considered signing up to an archaeological dig or teach English abroad. Perhaps I'll end up in graduate school later on and become an eminent Anglo-Saxonist.  Now, for the first time, the decision is mine.  It doesn't even matter so much to me what that decision ends up being, only that I have a chance to direct my own life going forward and to continue learning in the way that I see fit.
Eden shared with us how it felt to be a college graduate:
Though nobody ever questioned the fact that after high school I should attend college, how that was going to happen was a problem that seemed impossible to address.  College was not only unaffordable – I would be one of the first members of my family ever to attend, making the entire process from touring to applications an unfamiliar challenge.  It wasn't until Future Sacramento reached out that college seemed an attainable goal.
We were immediately given access not only to a generous stipend that could be put towards the cost of a university education but, perhaps even more importantly, an experienced group of people who were willing to advocate for me and my education, guiding me through the countless processes and procedures necessary to get admitted to a college.  Future Sacramento gave me and my family the tools necessary to open the world of opportunities that become available with a college degree.
Because of the extensive help that I received with financial aid applications, I was able to graduate debt free.  Beyond that, attending the University of Chicago introduced me to a diverse range of subjects to which I'd never been exposed.  Without the opportunities provided by Future Sacramento I wouldn't even know that this were an option, let alone that it was one I would find appealing.
The application process was, however, only the first hurdle in many hurdles one faces when college is so unfamiliar.  Though I had always excelled in high school, the leap from a public school with relatively low expectations to the University of Chicago was unexpectedly challenging.  It was the first time that studying meant anything more than glancing over the textbook before a test.  Though it quickly became apparent that I was going to have to transform the way that I approached education if I was to succeed, I never found myself feeling as though that success was unattainable.  A whole network of people had believed so much in my ability to do well in college that they had committed countless hours and dollars to making sure that I had the opportunity to do so.  If this many people believed that I could succeed than I knew that, whether it felt possible or not, I could.
Clearly, Future Sacramento has had a profound effect on the route that my life has taken after high school.  Even now, as I take time off from school to work in Chicago, I am reminded of how grateful I am for the opportunities they have afforded me.  I am more financially secure than ever before and look forward to the opportunity to help both myself and my family.
2011 - Eden Racket, was a senior at El Camino High School. Eden demonstrated academic excellence throughout high school. He completed six Advancement Placement (AP) courses, speaks three languages, volunteered on the school radio program - all while maintaining a 4.3 GPA. Eden also received very high scores on his PSAT and SAT exam, an astonishing achievement! His goal is to obtain a pre-med undergraduate degree and then pursue medical school to become an emergency room doctor. He was accepted by a handful of very impressive universities, and in March was thrilled to receive acceptance into the University of Chicago. He declared his intent to enroll and enthusiastically made plans to make the move out of state. The university provided Eden substantial funding and he accepted federal aid in the form of grants, however his family still has unmet need - which the Future Sacramento scholarship will fulfill. By providing him this scholarship, this allowed Eden the opportunity to reach his dream of attending one of his favorite colleges.