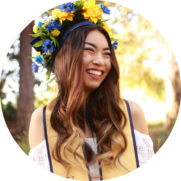 College Graduate
Diem graduated from UC Davis with her baccalaureate degree  in Environmental Toxicology with an emphasis on Pharmacology and a Psychology minor.
Future Sacramento made college a possibility by relieving further financial burden on my family.

Future Sacramento turned my dream of college into a reality when I was admitted to UC Davis.

Future Sacramento helped me to persevere by supporting me and giving a network of peer students who were also first in the family to seek college.

I cannot thank Future Sacramento enough for allowing me to be a part of something bigger than myself, which is something only my parents dreamt of for me.
Future Sacramento not only represents my future, but it represents my parents' and prospective generations' futures. With the generous help of Future Sacramento, I have a chance to do great things with my education to pay back my respects to my parents. Furthermore, I have a chance to use my education to inspire and educate others.
June 2016, with the support of Future Sacramento, I realized my dream of graduating with my baccalaureate degree from UC Davis.
Diem's background starts with her parents fleeing their hometowns in Vietnam in pursuit of a better future, they moved from refugee camp to refugee camp, before finally arriving in America. "Due to the lack of skills necessary for jobs and the language barrier, my parents worked low-waged jobs in poor conditions." Even facing these obstacles and unknown culture, Diem's parents have supported her in her goals for college. "My Dad called home from work on a Saturday morning to make sure I woke up for my SATs."
As a first generation Vietnamese-American, over 1.22 million stories like mine are generalized. I come from a low-income household in which my dad supports my brothers and I, along with my mom. Since both of my parents immigrated to the United States after countless of refugee camp relocations post-Vietnam War, the transition was difficult given the language and cultural barriers. My parents encouraged me to dream big because that mentality brought them to America.
I dreamt of UC Davis followed by pharmacy school at the age of 10. While the dream felt relatively implausible, all hope was lost in high school when my dad was diagnosed with Hepatitis C. It was when I gave up on my dream that I was awarded with the scholarship from Future Sacramento.
I thought getting into college would be the hardest part, but the journey itself proved to be otherwise. Both my physical and mental health were tested as I struggled to maintain my grades, social interactions, and sense of self. Knowing that I have a team of support, from Future Sacramento, who would be encouraging and walking this path with me was the motivator that kept me going forward. From accessing college with the help of financial aid advocacy, to finding my chosen major with the help of program staff at college fair, and helping younger students who followed me to my campus as I was the first UC Davis student from Future Sacramento - I reached graduation on time with this support.