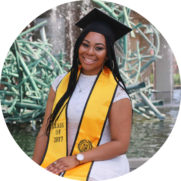 "I appreciate the Future Foundation for creating opportunities for a person like me to be able to go to college."
"I know the foundation will continue to help people in need of obtaining higher education and I would like to continue the legacy by one day being in a position to give back to this foundation that helped me succeed. Thank you to everyone who helped support my journey."
Devonna graduated in Spring 2017 from CSU Long Beach with a degree in Health Care Administration.
"Earning this college degree meant everything to me and my family. I am extremely proud to say that I attended California state University Long Beach and earned a degree in Healthcare Administration. Obtaining this goal was a difficult journey but I wouldn't have changed it for anything.Everyone should know that college is a different route for each and every person. I personally had full time jobs and attended school full time. This is an extremely heavy load and can cause an enormous amount of stress and pressure but I survived, I took care of myself and most importantly I did it, I graduated. What I gained from this experience is that this was the route that was going to help me persevere  and become a stronger person because of it and I am truly grateful "
When Devonna attended CSU Long Beach, she was actively involved in the CSU Educational Opportunity Program. Getting to college was a struggle for Devonna, but not academically - she excelled in high school and had several college offers from which to choose. Her struggle was that she is an 'independent' student with great financial need. Not having contact with her parents and no legal guardian, she had to annually to jump through extra hoops to simply be qualified for financial aid. During the summer before each new year in college, Future Sacramento staff helped her navigate the confusing college funding process. Devonna rose to the occasion by learning the process, taking responsibility and meeting all the requirements. There were several stumbles, but thanks to supportive mentoring and advocacy, she succeeded.
"Future Sacramento has helped me in numerous ways," says scholarship recipient, DeVonna. "They have helped me mentally prepare for college, to know what to do, what to look for, and how to get the most out of my college experience. Having a mentor to check in with is also a good feeling because they keep you on the right track."