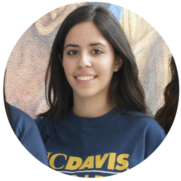 Aime graduated from UC Davis at the end of Fall 2017 term. Aime completed a double major in International Relations and Spanish. During college, she worked as a Spanish tutor and document translator.
This is her student story...
Both of my parents come from humble backgrounds, but they never lost hope that their efforts would one day pave way for a better future. They did not seek an "easier" future. If there was one thing they made clear to us it was that only those things that cost us tears, great fear, and effort are worthy of pride. My parents strived to teach us the value of hard work. From going with our father to the watermelon patch to pick watermelons to sell, to raking leaves and picking up branches at my father's side jobs. My mother also taught us from the house to be helpful, hardworking and perseverant.
My parents demonstrated through their work that one does not require only talent or luck to achieve a goal, it is the time that is dedicated and the courage one has to take risks that ultimately leads one to the desired objective.
Being awarded this scholarship changed the way I saw higher education. What I had seen as unreachable was now becoming reachable. With the guidance of mentors and Elizabeth Marlow, I graduated high school and soon after enrolled at the University of California Davis. I felt like I could take it all on- as I had in high school. My ranking was in the top 10 of my high school class. I earned a weighted GPA of 4.0 - with several AP classes , and passed the SAT Subject test for Spanish language. I maintained a dual academic track of both rigorous college preparatory classes and "Career Technical Education (CTE)" classes. I felt I was prepared and ready for the challenge!
But I really had no clue. I thought this will be piece of cake. Freshman year began, I was no longer walking through the halls of my small high school, I held tight to my campus map and wandered around hoping to find each class. The year passed by and I was beginning to get the hang of it, however, academically I was a disaster. I found it hard to accept that I didn't know what I was doing, and that I needed to ask for help. I didn't know what I wanted to study and the courses I registered for reflected that. I continued with my search, one day envisioning myself as an Engineer, the next as an Economist.
This is a universal struggle for first generation college students. We face the challenge of college with two obstacles - our parents know not how to guide us through education they did not receive and we lack the awareness that it is ok to ask for help, that asking for help does not mean me we are failing or that we do not belong in college
There was one moment, in particular, during these last four years, that I will never forget. It was during my 2nd year at UC Davis, it had been a long day, three finals one after the other. I had arrived home after being stuck in traffic for three hours. I was in academic probation from my academic stumbles my first year. I felt exhaustion. I felt anger. I felt that the hours I was dedicating were not bearing fruit. I walked into my family's home to see my parents and I couldn't help but cry. Fear invaded me. I thought to myself, "How could it be that after my parents dedicated so many years to their children and our education that now I wasn't going to be able to show them that it had all been worth it." My parents looked at me and said "Your efforts will yield rewards at the end of the day, today is just another test."
That night I realized a lesson... Its not about feeling invincible, or feeling like you can defeat it all. I learned the things that we're working towards and that stand in front of us - our goals, our dreams - those are the only things that are changeable.
Five majors and only four years later here I am, a quarter away from completing my undergraduate studies! I went from having a GPA of 1.8 freshman year to a 3.0.At the end of December I will graduate with a double major in International Relations and Spanish. I will be a first generation college graduate! Despite the obstacles, sleepless nights, and temporary feelings of desperation - I wouldn't change anything about my last four years. Each failure, opened my eyes to new teachings and contributed to my personal growth.
Being a part of Future Sacramento has only enhanced my entire experience. Not only did this scholarship take stress off my family's shoulders economically, but it showed me, all of us scholarship recipients, that more than getting us into college Future Sacramento is committed to helping us through it… Whether it was a phone call, an email, or a group meeting - Elizabeth and the Board of Directors always ensured we felt their full support. I stand here today with my heart full of joy and appreciation. Joy to see that there are so many people looking out for us…Believing in us constantly… Supporting us at every moment.
Thank you for supporting the mission of this program and most importantly for believing in higher education... It is thanks to people like you that we get closer to our goals every day.