Constructive Discussions : Peaceful Protest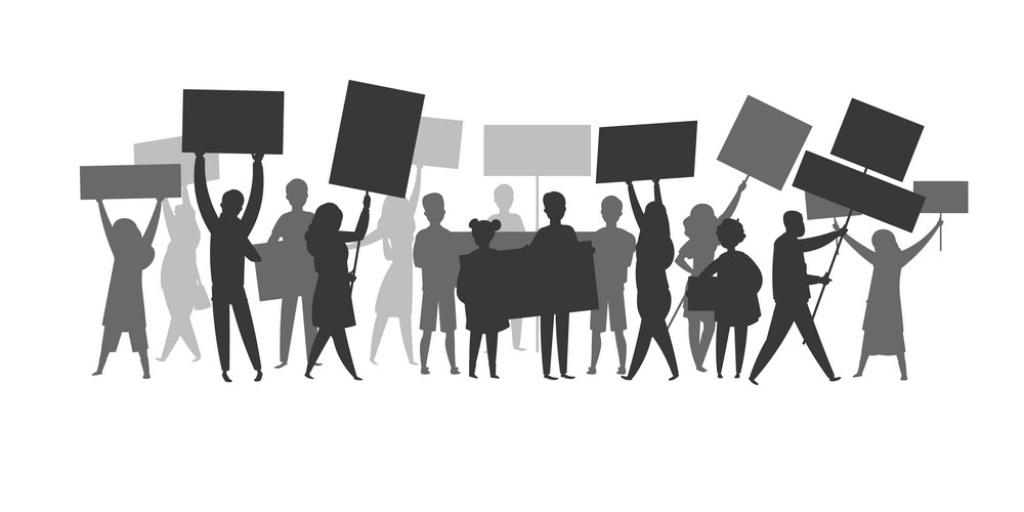 How are Peaceful Protests Effective? Two academic experts share:
Harvard Professor Erica Chenoweth explains her findings that "research suggests that nonviolent civil resistance is far more successful in creating broad-based change than violent campaigns." Omar Wasow, a professor of politics at Princeton, who studies protest movements and their effects on politics and elections, said in an interview with the New Yorker, that violence from protesters works against their cause. Longer comments from each expert included below the following local protest updates.
Friday, June 5, 2020 in Sacramento, CA – Sacramentans gather for ninth day of demonstrations. Several demonstrations were planned for Friday night in Sacramento. Event reports by SacBee and CapRadio.
Sacramento Bee reports "In Sacramento, protesters have hit the streets every day since May 29. In two instances, vandals splintered from the peaceful protest groups to break store and restaurant windows following demonstrations. Some ransacked businesses, including Macy's downtown."
Demonstrators visited Mayor Darrell Steinberg's neighborhood.
One crowd of more than 2,000 people conducted a series of 8 minute, 46 second "Die-Ins" at Greenhaven Drive near Florin Road, three blocks from Mayor Darrell Steinberg's house. That was how long Floyd was pinned by police. Just after 6 p.m., demonstrators laid down in the middle of the road near Greenhaven and Greenstar while others raised a BLM flag or gave away cupcakes to celebrate what would have been Breonna Taylor's 27th birthday. The crowd extended down Greenhaven Drive for at least four blocks, disrupting traffic along Florin Road. Organizers of the protest did not challenge the city's curfew, however, and wrapped up the gathering a half-hour before 8 p.m. Sacramento police said there were no arrests and no reports of vandalism or theft.
Volunteers gathered at the Capitol to prepare the lawns to paint 'Black Lives Matter' on Capitol Mall. About 100 (some reports of much more) volunteers help artist Demetris "BAMR" Washington paint. The project, which obtained a permit through City Councilman Steve Hansen, spans from Sixth to Ninth streets downtown.

Another group gathered in Cesar E. Chavez Plaza downtown, organized by the Anti Police-Terror Project Sacramento chapter, to celebrate Breonna Taylor, a 26-year-old woman who was fatally shot by police in Louisville, Ky. in March during a no-knock search warrant in her apartment. Friday was Taylor's birthday. That group of several hundred then marched to Memorial Auditorium, where it held vigil and released balloons.
At 11:09 A.M. Kings' owner leads crowd in taking a knee. Sacramento Bee reports, "Vivek Ranadive, chairman of the Sacramento Kings, took the microphone at Cesar E. Chavez Plaza and led the enormous throng in taking a silent knee – the symbol of the protests against police brutality. Then he proclaimed, "We have just one message: Black Lives Matter," eliciting a cheer. Ranadive marched to the plaza with team general manager Vlade Divacs and ex-player Matt Barnes. Another ex-King, Bobby Jackson, told the crowd: "You've got to go vote. You have a voice …. Use that voice." Barnes took the microphone as well and called the two nights of vandalism unfortunate but said they helped get people's attention. "They hear us finally," he said."
Balloon release for
Breonna Taylor


demonstrators march down L Street in downtown Sacramento on June 3, 2020
Erica Chenoweth says:
I think it really boils down to four different things. The first is a large and diverse participation that's sustained. The second thing is that [the movement] needs to elicit loyalty shifts among security forces in particular, but also other elites. The third thing is that the campaigns need to be able to have more than just protests; there needs to be a lot of variation in the methods they use. The fourth thing is that when campaigns are repressed — which is basically inevitable for those calling for major changes — they don't either descend into chaos or opt for using violence themselves.

Erica Chenoweth, who is the author of the book "Why Civil Resistance Works: The Strategic Logic of Nonviolent Conflict", responds to interview questions by Michelle Nicholasen with Weatherhead Center Communications on February 4, 2019 in the article "Nonviolent resistance proves potent weapon"
Omar Wasow says:
"we often see is that, when protesters engage in violence, often in a very understandable response to state repression, that tends to work against their cause and interests, and mobilizes or becomes fodder for the opposition to grow its coalition… there was this strategic use of violence by the civil-rights movement, but it was to be the object of violence, not the instigators of violence…when the state was employing violence and protesters were the targets of that violence, the strategy worked well, and when protesters engaged in violence—whether or not the state was—those voters moved to the law-and-order coalition.

Omar Wasow responds to interview questions by Isaac Chotiner, who is a staff writer at The New Yorker."How Violent Protests Change Politics" article published May 29, 2020