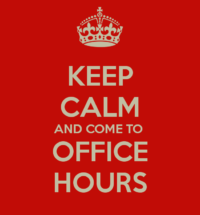 What are "office hours"? They are a pretty big deal, so make sure you get it. 
ANSWER: Time set aside by professors for students to visit their office and ask questions or discuss the course they teach. Your professor will tell you at the beginning of the term when and where office hours will be every week.
MYTH: You should only to go to professor office hours if you need urgent help with their course.
FACT: Attending office hours regularly will allow you and your professors to establish a valuable professional relationship.
WHY PARTICIPATE IN OFFICE HOURS?
I am always advocating for students to go to office hours and introduce themselves to their professors.
Office hours are *free* resource that all college students should utilize, especially at the start of a new semester.
Having strong professional connections with your professors can help set you up for future success.
Meeting with professors who are  teaching in a field you plan on pursuing as a career are a great long term networking connection. For instance, a professor with whom you have a good rapport can serve as an excellent reference when applying for jobs or internships later.
Meeting with professors who classes you are taking for electives are great to meet so that you can share (1) that this is not your major so you are a little new to the topic and (2) why you are glad to be learning something new in his or her class.  You will likely bring a different perspective to the class discussion and your assignments – for example, applying principles or concepts from your major to this elective.
If meeting with an expert intimidates you, be brave and still go. Remember, this is time the professor sets to meet with students – so the expectation of the conversation is professor to student, not expert to expert.
All students have issues that come up that could make you late or cause struggles in completing your work. If you know your professor – and better, your professor knows you – you may earn the benefit of the doubt and get support. Don't wait until you have an issue to seek help – that is not a good time to make an introduction.
Have you taken the time to meet your professors, BEFORE you have an emergency?
Here are some tips for how to address professors in office hours