Thank you for supporting the annual "Fairway to the Future" Golf Tournament. I welcome you to partake in the awards reception and bid high on our amazing auction items. We greatly appreciate your generous support.
Sincerely, Grant Napear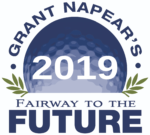 Giants vs A's ~ 4 tickets & Special Access
Exciting Bay Area rivals play on Aug 24th. Be on the A's field for batting practice and visit the umpire's locker room before the game.
Leave on a Jet Plane with the Sacramento Kings
You and a guest will travel aboard the team plane as you fly to a Sacramento Kings game in Los Angeles and stay in the team hotel.
Honorary Ball Kid & 4 Sacramento Kings game tickets
Opportunity for a youth age 7-14 years old to help the team during pre-game warm ups (youth must be accompanied by an adult). 4 tickets to a 2019-2020 game, date to be mutually agreed-upon by 12/01/2020.
Dinner for 8 at Bennett's
Experience a new fabulous local dining experience as the special guests of Grant Napear, Vlade and Peja at Bennett's after it opens in October (in the location that was formerly Bandera.)
Rancho Valencia Resort & Spa 2-Night Stay
This resort is regarded as one of the top in the country! Enjoy a Luxurious 900 sq ft Agave Suite and Two Rounds of Golf at The Farms. This stay will be valid for redemption Sunday-Thursday (excluding holidays) and is valid until July 31, 2020. (See our ad in the reception program!)
Mikuni dinner at your home!
Be the envy of your neighbors and friends! This is always a special treat to have Taro prepare his award winning sushi at your home.
Wine & Dine for six at Paul Martin's American Grill
Have the pleasure of being the special guests of Grant and Starr Napear for a delicious dinner paired with wonderful wine. Enjoy an environment of convivial and remarkable hospitality with food set to a higher standard.
Suds Car Wash ~ One Year Of Car Washes
Behind the Scenes with Grant Napear
Join Grant Napear for a unique special look at the Sacramento Kings. Enjoy two lower level game seats with dinner in the media room. Includes access to pregame locker room, TV truck to see how the game is televised, and postgame coaches press conference.
Catta Verdera Golf 4 x 4 Package
A foursome at four top rated courses in N. California: Teal Bend, Catta Verdera, Apple Mountain, & Coyote Moon
The exclusive beneficiary of All auction and tournament event proceeds is the Future Foundation of Sacramento.