To understand financial aid, start with learning the the types of funding, sources of funding, and how college's report their price.
Financial Aid has three category types:
Free Money / Gift Aid
- This funding does not need to be repaid, these are grants and scholarships
Earned Money / Work
- From a job on or off campus, regular employment or Federal Work Study
Borrowed Money / Loans
- Money to be repaid, with interest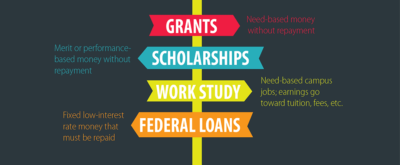 Students need to know the different sources of financial aid so that they can maximize all funding for which their eligible. The goal is to secure  consistent and renewable funding to meet your long term financial need. Accessing more than one source of funding will help students plan to have their entire time in college is fully funded. 
Financial Aid comes from four sources:
Federal government
State governments
Colleges and universities
Private organizations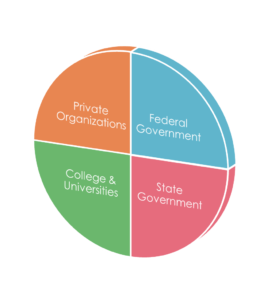 Financial aid funding is linked to the cost of college and will only fund you up to the amount you need for the college you choose attend. All universities have different amounts for their Cost of Attendance (COA), but each campus uses these common cost categories.
Cost of Attendance (COA)
Tuition and Fees
Housing and Food - also called "Room & Board." This includes housing whether off-campus / on-campus / with-family, and dorm meal plans or grocery food.
Textbooks & Course supplies
Transportation
Critical Personal Necessities and Health Insurance