Covid-19 – Education Update – Stress 2 of 2: Coping with Stress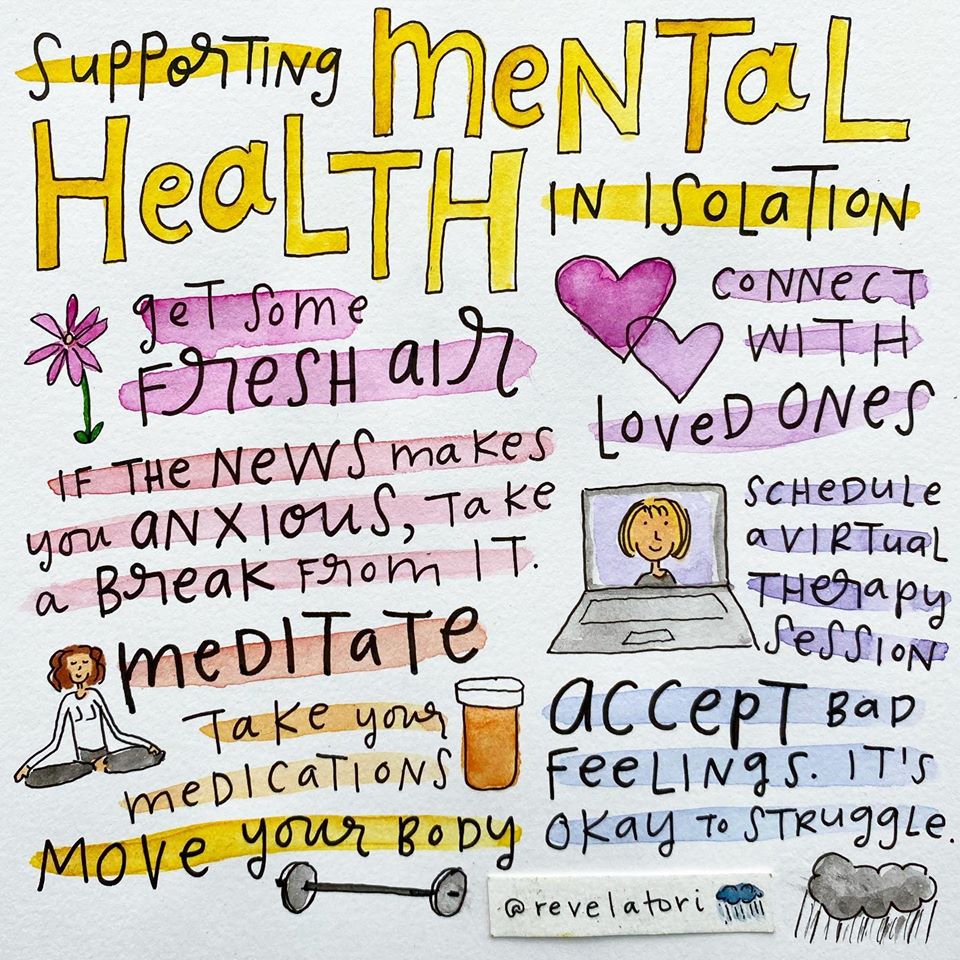 You are not alone if you are experiencing difficult feelings during this corona virus crisis.
What Can you do to improve or maintain your mental health?
If you're experiencing emotional distress related to COVID-19, please call the National Suicide Prevention Lifeline see here – talk-to-someone-now or your local crisis line:Sacramento (916) 368-3111
Coping Tips: People that are feeling emotional distress related to COVID-19 can take actions to help support themselves and others. National Suicide Prevention Lifeline and UCI Health psychiatrist Dr. Rimal Bera and offers tips for the quarantined, social distancers:
Set a limit on media consumption, including social media, local or national news. Avoid excessive exposure to media coverage of COVID-19. It can be upsetting to hear about the crisis and see images repeatedly.
Stay active.
Take care of your body and spirit. Take deep breaths, stretch or meditate.
Make sure to get enough sleep and rest.
Stay hydrated and avoid excessive amounts of caffeine or alcohol.
Eat healthy foods when possible.
Connect with loved ones and enjoy conversation unrelated to the outbreak.
Share your concerns and how you are feeling with a friend or family member.
Make time to unwind. Remind yourself that strong feelings will fade. Try to do activities you enjoy and maintain as much normalcy as possible.

Maintain a sense of hope and positive thinking.
Get accurate health information from reputable sources.
You're not alone. Know that feeling stressed, depressed, guilty, or angry is common.
PBS News Hour suggests: "People in isolation should 'stay connected and maintain your social networks,' along with your daily routine as much as possible, the World Health Organization said earlier this month. Maybe you can't go to the office, but you can still take a shower, get dressed and stick to a general schedule. You should also exercise, eat healthy food and sleep regularly, the WHO has urged, telling the public to 'pay attention to your own needs and feelings' during these stressful times. If you're consuming endless amounts of news about COVID-19, that can ramp up your anxiety. Set times during the day to check in on developments, and pay attention to news and information from trusted sources to help you prepare and stay safe. And even if you can't hug your best friend or visit your loved ones, technology makes it possible to make connections, and still appreciate the ups and downs of being human in these times."
Kessler suggests that we make a goal "to find balance in the things you're thinking. If you feel the worst image taking shape, make yourself think of the best image. We all get a little sick and the world continues. Not everyone I love dies. Maybe no one does because we're all taking the right steps. Neither scenario should be ignored but neither should dominate either. Anticipatory grief is the mind going to the future and imagining the worst. To calm yourself, you want to come into the present."
How can you approach and cope with your feelings about the coronavirus from a grief perspective? Kessler offers "a map" that he says "provides some scaffolding for this unknown world."
Denial: This virus won't affect us.
Anger: You're making me stay home and taking away my activities.
Bargaining: Okay, if I social distance for two weeks everything will be better, right?
Sadness: I don't know when this will end.
Acceptance: This is happening; I have to figure out how to proceed. Acceptance, as you might imagine, is where the power lies. We find control in acceptance. I can wash my hands. I can keep a safe distance. I can learn how to work virtually.
Meaning: Kessler shared, "I did not want to stop at acceptance when I experienced some personal grief. I wanted meaning in those darkest hours. And I do believe we find light in those times." He suggests that during this crisis, "people are realizing they can connect through technology. They are not as remote as they thought. They are realizing they can use their phones for long conversations. They're appreciating walks. I believe we will continue to find meaning now and when this is over."
The environment has also found meaning in this crisis.
"It seems the lockdown had an unintended benefit — blue skies. The average number of "good quality air days" increased 21.5% in February, compared to the same period last year, according to China's Ministry of Ecology and Environment," reported CNN.
In addition to China, South Korea and the U.K. have seen pollution reductions – but the 2nd biggest effected country appears to be Italy. "The changes over northern Italy are particularly striking because smoke from a dense cluster of factories tends to get trapped against the Alps at the end of the Po Valley, making this one of western Europe's pollution hotspots. Since the country went into lockdown on 9 March, NO2 levels in Milan and other parts of northern Italy have fallen by about 40%. 'It's quite unprecedented,' said Vincent-Henri Peuch, director of the Copernicus Atmosphere Service. 'In the past, we have seen big variations for a day or so because of weather. But no signal on emissions that has lasted so long,'" reported the Guardian.
"Perhaps this clarifying and regenerative effect is also possible in our personal lives. For those of us privileged enough to have the resources to weather this storm, let's consider ways to improve the ecology of our lifestyle, increasing our generosity. While those of us with less, or at high risk of infection, can reach out and ask for help from our communities. Whatever our personal circumstances, we all have a chance at clearing out the collective pollution from our thoughts," shares Toko-Pa.
The good news – Kessler predicts, "The precautions we're taking are the right ones. History tells us that. This is survivable. We will survive. This is a time to overprotect but not overreact."
https://www.cdc.gov/coronavirus/2019-ncov/prepare/managing-stress-anxiety.html
http://www.ucihealth.org/news/2020/03/covid-19-anxiety
Kessler : https://hbr.org/2020/03/that-discomfort-youre-feeling-is-grief
https://www.pbs.org/newshour/health/why-your-mental-health-may-be-suffering-in-the-covid-19-pandemic
https://www.cnn.com/2020/03/16/asia/china-pollution-coronavirus-hnk-intl/index.html
https://www.theguardian.com/environment/2020/mar/23/coronavirus-pandemic-leading-to-huge-drop-in-air-pollution
Toko-pa : https://toko-pa.com/2020/03/18/equinox/
More resoures:
https://tamug.edu/newsroom/2020articles/Coping-With-COVID-19.html
https://www.hopkinsmedicine.org/health/conditions-and-diseases/coronavirus/stressed-about-covid19-heres-what-can-help