Covid-19 – Education Update – Stress 1 of 2: Experts Explain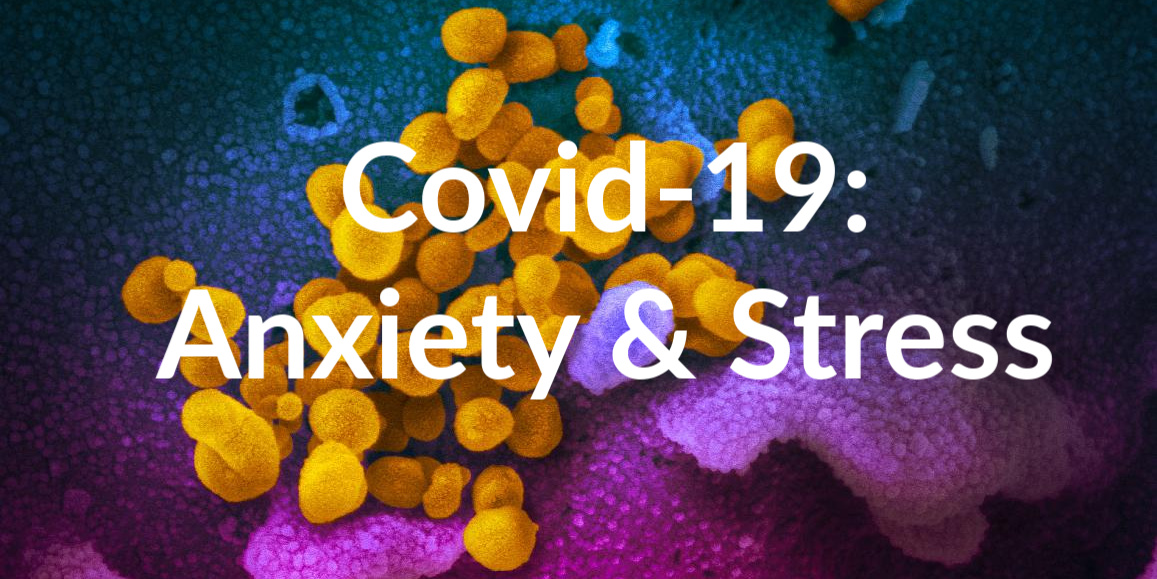 You are not alone if you are experiencing difficult feelings during this corona virus crisis.
"These are confusing, stressful times for all of us. As the coronavirus pandemic affects numerous facets of our society, it also impacts each person in different ways. The disruptions to daily life are already being felt by many, my family included—my son has been sent home from college, my place of worship has closed, and the comforting social gatherings that usually fill my weekends are off-limits. We are all feeling uncertain about what could happen in the coming weeks, as we hope to slow the spread of this pandemic. Feelings of anxiety and uncertainty are completely normal during times like this.," says Joshua A. Gordon, M.D., Ph.D. – the Director of the National Institute of Mental Health (NIMH).
"The outbreak of coronavirus disease 2019 (COVID-19) may be stressful for people. Fear and anxiety about a disease can be overwhelming and cause strong emotions in adults and children. Coping with stress will make you, the people you care about, and your community stronger. Everyone reacts differently to stressful situations. How you respond to the outbreak can depend on your background, the things that make you different from other people, and the community you live in," says he CDC.
"Feeling anxious, confused, overwhelmed or powerless is common during an infectious disease outbreak, especially in the face of a virus with which the general public may be unfamiliar. These feelings of distress and anxiety can occur even if you are not at high risk of getting sick," explains The National Suicide Prevention Lifeline. If you're experiencing emotional distress related to COVID-19, please call the National Suicide Prevention Lifeline see here – talk-to-someone-now or your local crisis line:Sacramento (916) 368-3111
"Thanks to a 24-hour news cycle, near-constant social media use, empty store shelves and a flood of inaccurate information, reports of anxiety, fear and uncertainty are on the rise. These fears can be overwhelming and lead to strong emotions," says UCI Health psychiatrist Dr. Rimal Bera and offers Helpful tips for the quarantined, social distancers and parents here.
"COVID-19 has sent the world into an understandable panic. In the effort to slow the disease's spread, folks are being quarantined worldwide, schools and gatherings have been cancelled, travel has ground to a halt, borders are closing, and the stock market has crashed in drops we've not seen for 80 years. Whether we are worried about how the outbreak will affect our employment and money-flow, access to supplies, child and elder care, or if we (or our loved ones) will contract the disease, our foundational needs for stability, security, and belonging are shaking with vulnerability," wrote Toko-pa, artist, author who specializes in grief among other focuses.
Social distancing is "massively disruptive, and for many people, it has been intensely stressful," says PBS News Hour. "No one knows how long this pandemic will last, or how long people's lives will feel upended. Combined with the stress of financial strains or even not being able to blow off steam at the gym, people may increasingly feel frustrated, bored, angry or confused, said Dr. Lynn Bufka, a psychologist and expert on stress and anxiety with the American Psychological Association. 'If you're depressed, it's hard to get the energy about how to do the things you need to do to stay connected to others," Bufka said. "If you're anxious, your anxiety is probably already elevated right now, and you have fewer resources to deal with that.'"
"Beyond the practical measures to keep each other safe, there is nothing we can do about the uncertainty of our situation. But resistance to that uncertainty is what creates regression into fear, anxiety, and panic," notes Toko-pa.
The strange sense or discomfort you are feeling may be grief. David Kessler, a grief expert who co-wrote with Elisabeth Kübler-Ross "On Grief and Grieving: Finding the Meaning of Grief through the Five Stages" suggest many of us are suffering from a number of different griefs – micro and macro, individual and collective grief, and loss in multiple ways – loss of normalcy, connection, and safety. "With a virus, this kind of grief is so confusing for people. Our primitive mind knows something bad is happening, but you can't see it. This breaks our sense of safety," said Kessler. Kessler also details this may include "anticipatory grief" which defines as the "feeling we get about what the future holds when we're uncertain."
https://www.nimh.nih.gov/about/director/messages/2020/coping-with-coronavirus-managing-stress-fear-and-anxiety.shtml
https://www.cdc.gov/coronavirus/2019-ncov/prepare/managing-stress-anxiety.html
http://www.ucihealth.org/news/2020/03/covid-19-anxiety
Kessler : https://hbr.org/2020/03/that-discomfort-youre-feeling-is-grief
https://www.pbs.org/newshour/health/why-your-mental-health-may-be-suffering-in-the-covid-19-pandemic
https://www.cnn.com/2020/03/16/asia/china-pollution-coronavirus-hnk-intl/index.html
https://www.theguardian.com/environment/2020/mar/23/coronavirus-pandemic-leading-to-huge-drop-in-air-pollution
Toko-pa : https://toko-pa.com/2020/03/18/equinox/
More resoures:
https://tamug.edu/newsroom/2020articles/Coping-With-COVID-19.html