Distance Decisions – College RSVPs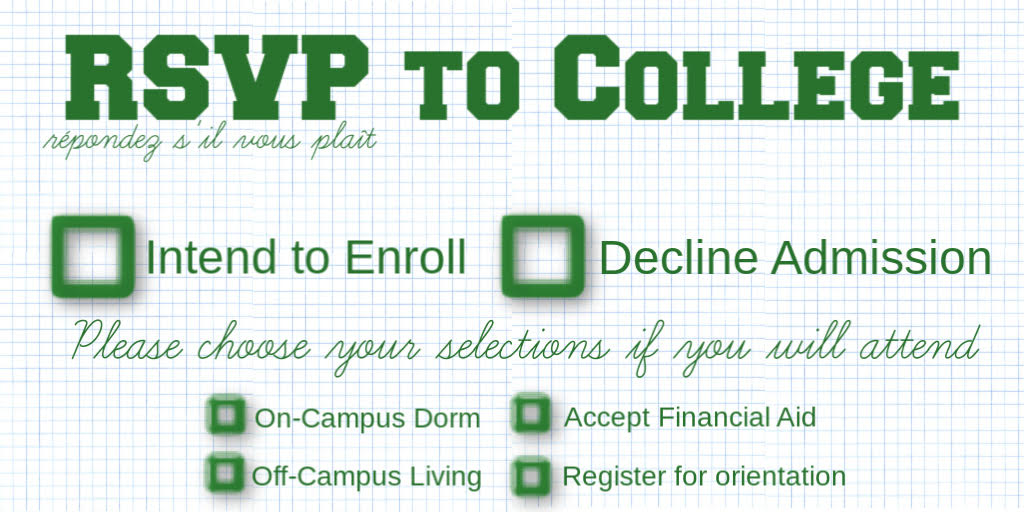 College Choice & Saying "Thank you, but no"
You applied to multiple colleges, and played the waiting game.
Then, several colleges said YES to you by offering you admission. Congratulations!
You spent weeks, maybe months, deciding at which college you will choose to enroll.
The first step once you select your chosen college is to reply with your Intent To Enroll at your chose campus. And then CELEBRATE! 
---
What do you do with the other colleges who offered you admission but you did not choose? Should you contact the schools you are not attending and inform them about your decision?
It may be true that you do not have to decline admissions – but it is a courtesy to let them know.  Informing the schools you do not intend to attend frees up a spot for another freshman who may be wait-listed and  it releases financial aid or scholarship money that was reserved for you so that another student can benefit from it. It may feel difficult for students, and parents, to make that final decision to say no to college offers, but this is a good step in closing this chapter.
Therefore, once you make up your mind, take some time celebrate your decision… and then get down to informing the rejected colleges.
The best way to communicate your decision to the school is by using the same channels of communication that you have been using all along. This is likely a student portal. Each college you have applied to will give you directions on how to announce your decision. Some have an online form, others will want an email or paper letter.
Quick how-to's for your College RSVP of : NO :
RSVP ASAP – as soon as you are sure it's a "no" instead of a "maybe" let the declined college(s) know.
Don't apologize – you have done nothing wrong, you just chose a different school.
Be professional – these sorts of letters are every-day, common experiences to businesses.
Follow directions – they may have a method to accept or decline.
A polite rejection is best.
If  asked to give a explanation of why you chose another college, a brief note should suffice. You do not need tell them which college you have chosen to attend.
If you were in contact with one particular admissions officer, drop a quick email to that person to let them know you appreciate all the time they spent on your application. Say thank you for their time.
Sample letter to reject a college admission offer

Dear Ms./Mr. Name (or Admissions Office):

I am writing in response to your offer of admission to the (Name of University). I appreciate your interest in me, but I want to inform you that I will not be accepting your offer of admission. Thank you for your time and consideration.

Sincerely,

Student Name